"Contactless" was a word, hidden away in the recesses in the vocabulary of the food industry until the pandemic took hold of our lives. Fast forward to the present scenario, contactless delivery has become the new normal owing to the extra awareness that we all are exposed to with regard to the spread of coronavirus.
Contactless delivery is practiced to ensure proper food delivery with minimal or no chances of the virus spread. For instance, Yum China, a KFC and Pizza hut operator in China is practicing contactless delivery and pick up so that customers can safely get their food from them.
As part of the contactless food delivery process, delivery drivers are examined for temperature, they are required to wear masks and disinfect their hands before heading out for delivery and also after they finish the delivery. Across the US, delivery services like Doordash, Postmates and Instacart started implementing contactless delivery with full vigour.
Let us take a look at some of the major developments taking place in the world of contactless delivery in the blog here.
Apple announced Clips
In June Apple announced the launch of Clips, an app which gives you the freedom to make payments without the hassle of setting up an account each time and downloading apps. The app allows users to access a bit of every app through NFC, QR Codes or Special Apple clip codes which means users can pay for their morning coffee from Blue Bottle, find a nearby restaurant and get recipes for drop enabled connected appliances without having to separately download different applications.
Minnow raises funds
In August raised a further $2.2 Million to diversify their contact-free delivery POD program. They make IoT featured contactless delivery lockers which can be unlocked using the customers mobile phones.
Pop ID's facial recognition system
In the same month, some restaurants in Pasadena, CA, have decided to use Pop ID's pay with your face technology. Using the technology customers can make payments using face recognition ensuring zero contact.
Sensory takes the contactless delivery into a new realm
Sensory is currently in talks with major QSR (Quick Service Restaurant) chains and also with tech companies that supply kiosks to integrate their technology. The Sensory device need to be bolted onto the kiosk and once done with that, the technology uses voice and vision AI to treat customers to a touch free experience.
Holo industries going futuristic through holographic menu solutions
The Neonode Touch sensor modules, the ASKA 3D Holographic plate from Asukanet and many more components from the holo industries is utilized for making holographic menus. The menu is touch responsive and in mid air when your finger touches an item it generates an audible response from the menu.
Beastro for your kitchens
Kitchen Robotics, a Tel Aviv company, has introduced a cooking robot for virtual kitchens named Beastro which can make 45 dishes in an hour which includes Italian, Asian cuisines, soups, salads and more.
Walmart to launch Walmart+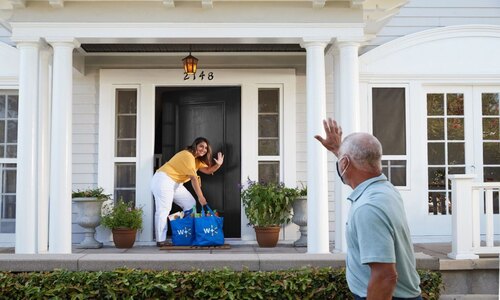 By September, Walmart announced that they will launch their own membership service. The membership gives you free delivery on more than 1,60000 items from Walmart stores for an order upwards of 35$. The membership service also includes fuel discounts and other offers.
Conclusion
The future of contactless delivery seems definitely bright. Along with the integration of AI and higher technological capabilities. Restaurant owners should think of using an online food ordering software with the latest features to effectively execute the contactless delivery program.
Customers will be safe and feel confident to have food from their favorite restaurants and also order groceries without the fear of virus transmission when they receive their ordered items in a contactless way.
Prev
Next
Kiruthika
Kiruthika is a Content writer and blogger at Pofi Technologies. Other than her interest in writing, she can be seen listening to songs, reading or traveling.