Customer Order Management
Admin can track the status of orders followed as: New, Confirmed, Order, Picked up, Delivered, Denied and Cancelled. Admin can manually search order by entering order id.
Admin Dashboard
Dedicated admin dashboard for managing entire food ordering platform operations.
Merchant Management
Admin can view, add or edit merchant with unique or common commission settings.
Restaurants Management
Admin can view, add or edit restaurants.
Commission Tracking for (Merchant) - Individual Earnings
Admin can view individual earnings of restaurant's merchant.
Category Management
Admin can manage and add new Category for restaurant category and Item Category
Customer Management
Admin can add or delete and track of user details in the food ordering platform. Admin can do promotional activities such as sending email newsletter to by using user details.
Item Management
Admin can define multiple categories for restaurant item listings. User can filter the restaurants based on the listed categories.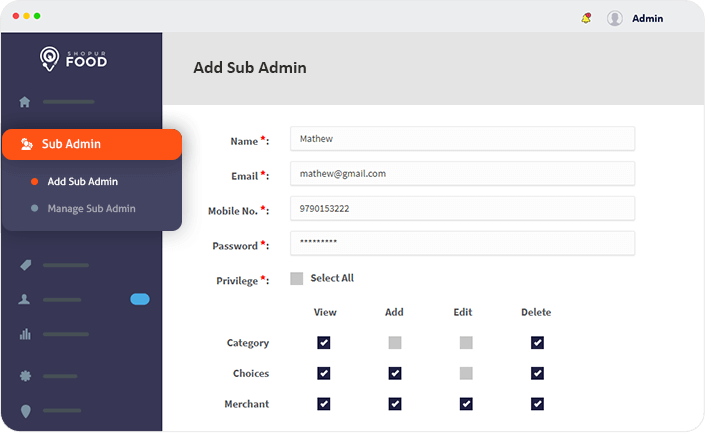 Sub Admin
Admin can create sub admins to handle delivery. Admin can restrict access to different modules for sub admins in admin panel.
Secured Payment Gateway
User can pay in their convenient payment modes such as Stripe,PayPal,COD options set by admin.
Offers
Admin / Merchant can give specific discount value offers for food orders to customers.