The restaurant industry is highly impacted by recent search trends prevailing among the consumers more than ever. This search is at a high rate within the last six months, other highly searched industries include, entertainment, retail outlets, hotels, and personal services.
"What do people do when they are hungry? Cook, order food at home or find a nearby restaurant. Among the latter, many decide where to eat by searching Google."
The search trends keep evolving every day since a potential customer started using keywords like "restaurants" or "restaurants near me" in Google. Here are some top Google search trends that the restaurant industry needs to watch out for in 2020.
Top search trends about restaurants & dine-in
Let's explore what the world is searching in-depth here, the below-mentioned image shows most frequently searched keywords across the globe in google 2020.
This is clear evidence that many people have searched "What restaurants are open" on google. The pandemic's impact on customer behaviour has changed the way they search for restaurants.
Google has played a vital role when customers want to find nearby restaurants or dine during the uncertain situation.
Report shows, 81% of consumers have searched for a restaurant through mobile devices, and 91% searched via web browsers.
More than 80% of people carry out Local Searches.
Top search trends about Online ordering
As many countries around the world went through early this year, Many restaurant owners were wondering how to survive or even thrive in the business. Here are the top searches about online ordering in 2020.
According to Google, "Restaurants near me" consistently ranked one of the top near me searches. However, the customer behaviour has changed and there is a spike in search queries related to "delivery" in the past few months.
Google's search data gives an idea of how searches have changed over the months in the same year. Especially "Take out" and "Food delivery" significantly higher than before. Also, search interest for "food delivery" related queries has spiked 100%.
During the shutdown of restaurant dine-in, online food delivery made customers shelter at home. "Grubhub has mentioned a net 25,000 restaurant partners had joined the platform since May for a total of 225,000".
Delivery of food orders got bigger this year. There are as many as restaurants have joined with third-party food delivery platforms while few created their own food ordering system.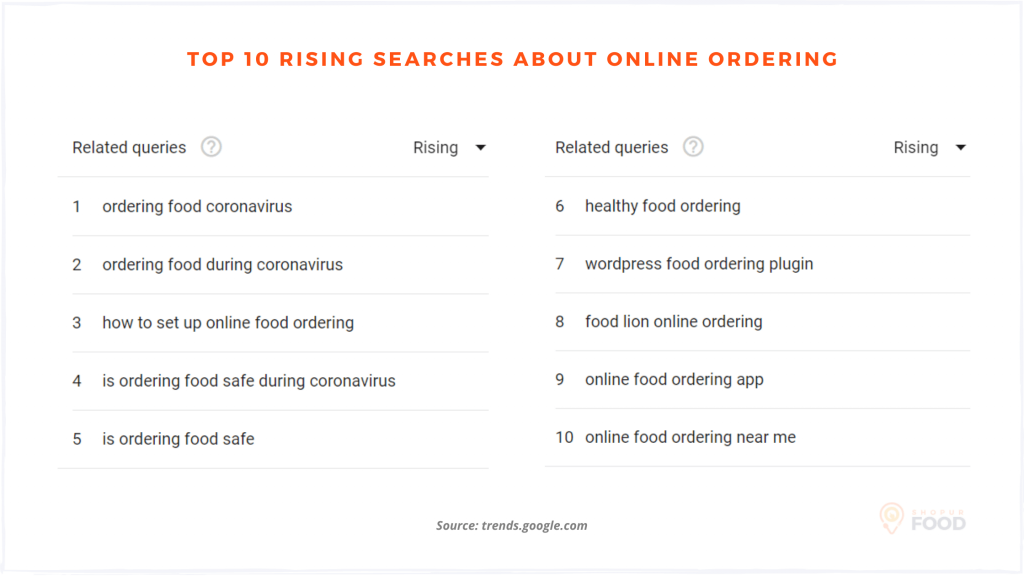 The only good news is, the restaurant industry still had the opportunity to survive by take-out and food delivery. This is even more evident that the restaurant has to have the best online presence to serve their consumers.
How to create an online presence to restaurants?
1. Create your restaurant profile on Google My Business
Google shows local results when it considers that the search has a local "intention". As mentioned above, "Restaurant near me" is one of the most searched local intended search term. Google interprets "near me" as a local search and shows the verified restaurant profiles.
2. Make your presence on other local directories too
Gain more visibility over other local directories such as Bing, Yelp, Facebook, Foursquare, Manta, and TripAdvisor.
3. Build a restaurant website
A website gives you a complete portrait of the business and it is being one of the powerful marketing tools for showcasing the menu, price and various locations. A website helps the business in many ways, however, proactively communicating about the changes and providing an alternative option for dine-in is key to successful businesses. To get the website optimized for google is essential for bringing potential customers.
4. Create a mobile app for ordering food online
Having a mobile app to your restaurant business can increase the scope of your brand as well as an alternate option for consuming food online. Creating a mobile app for restaurants is an ideal option to offer the best discounts with loyalty points. One of the best customer retention tool.
5. Create your social media pages for your customers
Social media platforms thriving any modern business. This is even the best way to communicate with your customers promptly. Make use of social platforms to nicely showcase the restaurant ambience, menu, pricing, open time, and even the voice of your customers. This will create legitimacy to your business.
Bottom Line
Now you know that the success of restaurant brands relies more on serving the needs of your customers. Furthermore, you can use Google Trends to know what exactly your customer behaviour.
With little effort and time, you can learn the key aspects of Google searches and trends that help to put your business ahead.
Prev
Next
Kiruthika
Kiruthika is a Content writer and blogger at Pofi Technologies. Other than her interest in writing, she can be seen listening to songs, reading or traveling.